LED Light Up Decorative Seating Cubes (11 Colors)
General Use Commercial Furniture;Specific Use Bar Stool;Type Bar Furniture;Appearance Modern;Style Europe And America;Height Adjustable No;is_customized Yes;Model Number SK-LF03 (D20cm);Is Rotatable No;Brand Name skybesstech;Folded No;Usage Commercial;Illuminated Yes;Material Plastic;Size D10,D13,D15,D20;Finishes Technics Rotating;Finishes Technics Rotating;Product Name 20cm LED Decorative lighting led cube lighting;Housing Material LLDPE Polythylene plastic;Workmanship Rotational mould;Color RGB 16 color changing;Voltage 5V 1A;Battery 800Mah Rechargeable Lithium battery for 20cm Cube;RGB LED Quantity 3pcs for 20cm Cube;Charge /Work time 3-5 / 8-10 hours for 20cm Cube;Certificate CE,FCC,ROSH,MSDS;Warranty LED 1 year Case 2 years;
The Main features
(1) Sk-LF03 LED Cube Stool
1.Polythylene (PE) Material
2.RGB multi color changing,can set it to one certain color
3. With 24 keys remote control
4.Rechargeable lithium battery (D10-20CM:800mAh;D25-35cm;1000mAh;D40cm-D43cm:2000MAh;D50-60CM:4000mAh,D80cm:8000mAh)    DC:5V1A
5.RGBW LED qty:D10-20cm:3pcs;D25-35cm:6pcs;D40-43cm:12PCS;D50cm:18pcs;D60cm:24pcs D80cm:5W Spotlight
6.Charge/Use time:D10-15CM:3hrs/8hrs; D20-35CM:4hrs/9hrs;D40CM:5hrs/9hrs; D43-60cm:7hrs/9hrs,D80cm:8hrs/8hrs
7.Waterproof IP65
(2) Sk-LF01 LED Ball
1.Polythylene(PE) Material
2.RGB multi color changing,can set it to one certain color
3.With 24 keys remote control
4.Rechargeable lithium battery (D10cm-D25cm:500mAh,D30-40CM:1000mAh,D50cm-D80cm:2000mAh,D100cm:6000MAh)    DC:5V1A
5.RGBW LED qty:D10cm-D25cm:3pcs;D30-D40cm:6pcs;D50cm:12pcs;D60cm:18pcs;D80cm:24pcs;D100cm: 5W Spotlight
6.Charge time 3-6 hours can Work 8-12 hours
7.Waterproof IP65
(3) SK-LF01C 
1.Polythylene(PE) Material
2.RGB multi color changing,can set it to one certain color
3.With 24 keys remote control
4.Rechargeable lithium battery (1000MAh) DC:5V1A 
5.RGBW LED qty:6PCS
6.Charge/Use time:4hrs/9hrs
7.Waterproof IP65
Product picture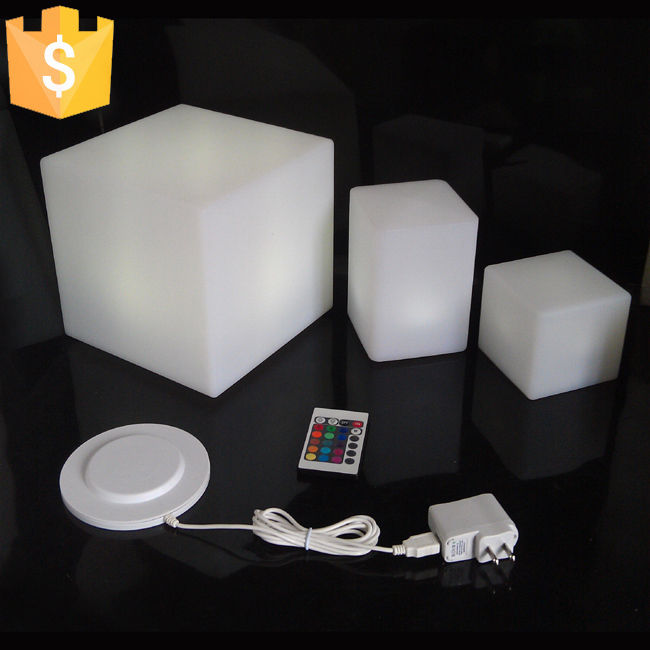 Accessories and Packing Photos:  
Operation ways and charging optional:
FAQ Guide:
How do I keep clean My LED products?
Just wipe off your products with a damp cloth regularly to keep them clean.
What does waterproof degree IP65 Means?
Most of our products have Waterproof Degree IP65 which means they are full waterproof.
Is there a warranty policy?
All LED products sold are covered by a 12 months and PE housing 3 years in warranty and commences from the purchase date on your selling record.
Can you do the design for us?
Yes,we have a professinal team having rich experience in molding design,lighting system developing and manufacturing.Please just tell us your ideas and we will help to carry out your ideas into a perfect item.
---
We Also Recommend
---